All India | Edited by
Deepshikha Ghosh
| Updated: February 17, 2014 18:33 IST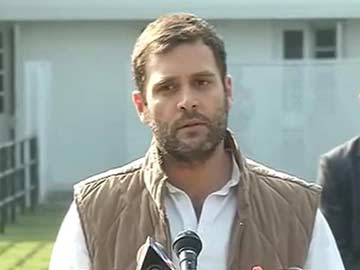 New Delhi:
After decades of struggle, the forces have finally got one of their key wishes just before the national election - one rank, one pension.
The ruling Congress hopes that the announcement in Finance Minister P Chidambaram's interim budget today, driven by Rahul Gandhi's open support for the demand by ex-servicemen last week, will win it the support of lakhs of soldiers ahead of the polls, due by May.
Mr Chidambaram said the defence budget had been hiked by 10 per cent, and
R

s.
500 crore would be allocated for implementing the 'one rank, one pension' rule.
Mr Gandhi called the media to "thank the Prime Minister, the government and Soniaji (Gandhi)". He added, "Our soldiers should feel that their government supports and backs them. It is our duty to help them. This is our sentiment. They fight for us on the borders and mountains, we thank them for it." The decision arms the Congress vice president with a major sop as he goes to Uttarakhand on Saturday to address a rally of ex-servicemen.
Not long after his statement came this tweet from Narendra Modi: "I welcome the decision on One Rank, One Pension for our servicemen. Belated wisdom finally dawns on our 'hard working' UPA ministers."
The "one rank, one pension" rule means that retired soldiers of the same rank and length of service will receive the same pension, regardless of when they retire. Currently, pensioners who retired before 2006 draw less pension than their counterparts and even their juniors.
There are 14 lakh serving and 24 lakh retired military personnel in the country and they have been courted by both the Congress and the BJP.
Narendra Modi has repeatedly reached out to the forces in his campaign speeches. At an event last month, he had regretted, "We have lost so many soldiers in wars, but there is no war memorial."
The "one rank, one pension" demand has seen many protests by former soldiers; many decorated veterans have returned their medals and some have even gone on hunger strikes to fight for it.
It didn't take the Centre much time to announce that it had accepted the demand after Rahul Gandhi met a delegation of ex-servicemen on Friday and assured his support.