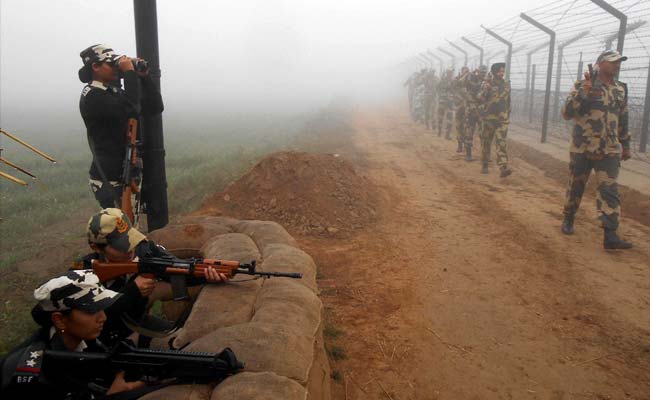 JAMMU:
Pakistan begun a fresh round of ceasefire violations across the international border in the Jammu region on Sunday night. This time, 15 Indian posts came under fire from the Pakistan Rangers in the Samba and Hiranagar sectors. One Border Security Force (BSF) jawan who was injured in the firing has succumbed to his injuries.
The Director General of the BSF is scheduled to visit the affected zone on Tuesday. The Kathua District administration has closed all educational institutions indefinitely and has set up more camps to serve the people evacuated from villages close to the border.
The latest ceasefire violations began when Pakistan Rangers opened fire last night on four BSF posts in the Hira Nagar and Samba sectors along the international border in the Jammu region. This triggered retaliatory fire from the Indian forces.
In the past week alone, two BSF jawan have died because in firing from Pakistan. Indian retaliatory fire has killed five Pakistan Rangers. Apart from this, one civilian, a woman, has been killed and 10 others injured as a result of Pakistani fire, according to the BSF.
Ceasefire violations continue unabated, even as 50 to 60 militants are ready to infiltrate the border, according to BSF sources. Meanwhile most of border population in the Samba and Hira Nagar sectors have been evacuated and moved to safer places, to avoid any casualties.
Meanwhile, the District Magistrate (DM) of Kathua has said all educational institutions have been shut indefinitely and a number of relief camps have been set up for the benefit of local residents who have been evacuated from the area.
The DM added that Pakistani shelling has also extended a significant distance from the border, with shells exploding 3.5 km inside Indian territory, at places like Chakra, Sherpur and Londi.
Around 2500 people were evacuated on Monday alone. Further evacuation of people stuck in the area under attack has been frozen to avoid targetting of buses ferrying border residents. However, three bulletproof vans have been pressed into action at Bobiyan, Pahadpur, Manyari and other forward areas.
Authorities have also ordered the closure of all schools in the Hiranagar and Marheen region, and also issued a notification for the postponement of the ongoing examinations for Class XI.
(Source- NDTV News)