New Delhi |
Updated: August 15, 2015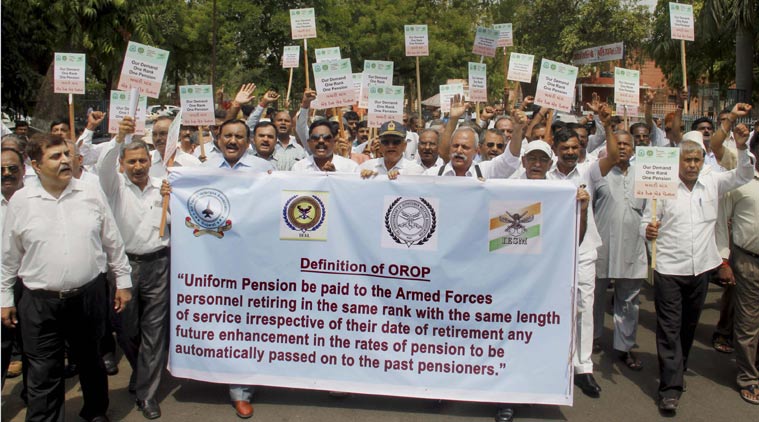 Today was the second time this year that expectations were running high that Prime Minister Narendra Modi would announce the implementation of One Rank One Pension for military veterans.
The first one was in May, during the first anniversary celebrations at Mathura, where even the defence minister expected the Prime Minister to make the announcement. The same tempo was again built up for his second Independence Day speech today, but the Prime Minister did not go beyond reiterating his government's commitment to implementing the OROP and having accepted it in principle.
This is not going to satisfy the veterans who have heard many such in-principle acceptances and announcements over the years. For them it is about implementation and a date by which money would be in their bank accounts. The PM's words follow the high-handed behavior of the Delhi Police on Friday morning when it tried to forcibly evict protesting veterans from Jantar Mantar on grounds of security for the Independence Day.
Four retired service chiefs have also written an open letter to the President asking him to intervene, warning the it will lead to a breakdown of the officer-men relationship in the armed forces. They warned that "recent developments have not only triggered a process of politicisation of the Indian military".
An irate group of veterans, along with threats of a breakdown of the military, is not a good sign for any government. But when it happens to be led by a Prime Minister who publicly promised OROP in his first major campaign speech and won the support of the veterans and the soldiers, it will need more than an announcement of in-principle acceptance. OROP is a complicated issue with high fiscal costs and a fear of similar demands by civilian employees. No government can arrive at a hasty decision on such an important matter. But having repeatedly made this commitment to OROP, it can certainly communicate the roadblocks in its implementation to the public and take the veterans into confidence.
Simultaneously, it needs to insulate the serving soldiers and the apolitical nature of our armed forces from the actions of the veterans. An early closure to this issue is desirable and the Prime Minister's reassurance from the ramparts of the Red Fort that OROP will be given is a welcome step. Meanwhile, his interlocutors need to communicate the details of the issue so that everyone understands the real situation better.
(Source- Indian Express)