Dear Netas, Babus, Mediamen, Industrialists, Film Personalities and my Countrymen,
I am a fauji. I was never rich in money terms but I was made to feel rich by the job that was given to me to defend the country and the izzat that you gave me. In the average perception of the countrymen I was made to feel that I was wanted, admired and held in high esteem for my values. I number of movies were made on my valour, commitment and dedication. In these, in folklore and in the news I was always shown as the winner and the righteous. It was enough to keep my morale high and to sacrifice my life, liberty and comfort for the country. In short, it was an honourable profession.
But, it changed totally as soon as I became aware of how consistently you have denied me my dignity, izzat and One Rank One Pension (OROP). Despite your attitude ranging from non-caring to deception, I still clung on to the hope that perhaps I mattered despite all your betrayals since the year 1973 when, shortly after the 1971 war with Pakistan when I gave you the most spectacular victory (sorting out once and for all times, the problem of East Pakistan), you suddenly denied me the OROP and reduced my pension. Gradually, over years, you lowered my status and simultaneously augmented yours and finally, I was made to feel like a used condom.
Yes, some of you, made movies on the theme of my heroism and some of you paid lip-service to publicly singing songs of praise for me. But, looking back, now that I am at the end of my patience of waiting for you to restore my OROP, dignity and izzat, I am beginning to feel that it was all, perhaps for your own vested interests. I don't trust you anymore and I am increasingly getting more convinced that you don't deserve me and my sacrifices.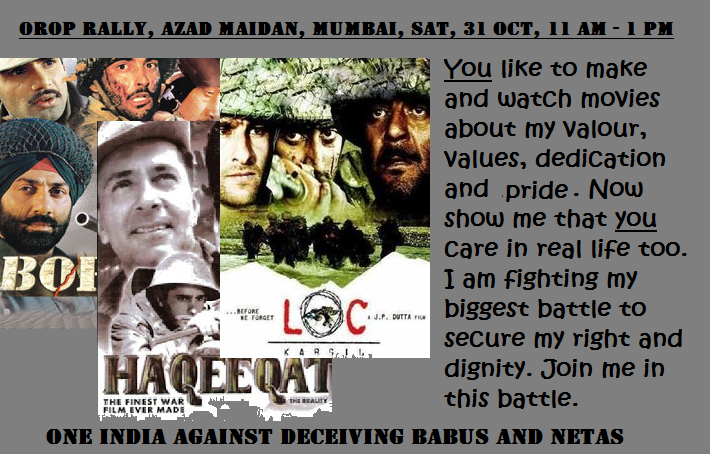 Please consider that God made all of us equal and he has given me too – just as he has given you – only one life. I used to think that your life is precious for me to safeguard with my life, even though I am not a mercenary (Please read, if you can find time from looking after your self-interest: Armed Forces And The Indian Society). Now that I have found that whilst I was ready to sacrifice my life for you, none of you has spared a thought for me or even time, I am beginning to wonder whether the profession of arms is honourable anymore or not. When I used to stand alone and unprotected at the highest battleground in the world: Siachin glacier, or at sea with kilometers of salty water under me, or in the air battling elements, I used to entertain a hope, since then proved false, that me and my family would be looked after by you. But, now I have discovered to my shock that you'd rather look after a cricketer, film-star or the like from whom you can obtain adequate publicity and return on your investment rather than me, I regret having ever entertained the hope that you care for me. I have also found that you have even started questioning whether in this peaceful atmosphere, I am required anymore.
Sadly, I have discovered, that you are chips of the same block. Didn't the Radiia tapes bring out the unholy nexus that exists between politicians, bureaucrats, industrialists and media persons? It is all on record and yet despite that a media person squarely having sold herself to your interests was given Padma Shri.
On the television debates, some of you, driven by jingoism rather than by any genuine feelings, make a show of touching my feet. But otherwise, I openly ask you now, how is it that after nearly five months of my agitating on the streets, none of it has made any dent with you? You, who would be up in arms against the perpetrators of bias and crime against minorities, women and the so-called underprivileged; you who would write reams of paper on anything and everything of what you call public interests; you who would readily reward a batsman one crore rupees for hitting six sixes in an over of six balls; you who get concerned on the third day of truckers strike against enhancement of toll (Please read: Long Time No War); how is that you displayed total disinterest when one of me ilk, an 82 years grenadier, was roughed up by the police on the eve of independence? How is it that you confidently feel that none of this affects you?
I don't trust you anymore. You are good at making promises. You are good at making insignificant things into issues of national interest and conversely, you ignore the issues that are indeed significant. I don't trust you anymore.
I hope, in this atmosphere of hopelessness for me, you have an alternate plan ready just in case you discover and re-discover that there is indeed threat to national security and to your assets and that no one is willing to take up that challenge anymore. I hope that you have a Plan B ready when you discover that the youth of the country refuse to join the armed forces knowing that these are the people who are remembered in crises but quickly forgotten, ignored and put to shame when the crises no longer exist, at least in your perception. I hope you have enough money to buy security when your erstwhile trusted source has dried out in disdainful despondency.
Even you know that it isn't a fight for money. It is indeed one for regaining lost status andizzat. I don't trust you anymore even with the outcome. Even if you announce it on Diwali, as you now claim in your thousandth promise, I really don't trust you. I would be skeptical that you would lose no opportunity to show me down even after giving me my right. You would come up with senseless statements, for example, that you had to snatch it from the poor to give to me. I thought you shouted from house-tops that you had almost eradicated poverty after nearly six and half decades of independence; so then, who are these poor from whom you are snatching to give to me? Are you obliquely accepting the fact that there are indeed poor in the country despite your promises, election after election, that you would eradicate poverty? Are you also accepting that your promises are indeed mere promises? Are you now saying that you would have, but, those who gave their life for the country are standing in the way of your fulfilling your promise?
How about asking the industrialists, film personalities, cricketers like you to donate towards eradicating poverty? Is taking from one poor to give to the other, the onlypragmatic solution that you can think of?
You also threaten me with the challenge of para-military forces and the like also waiting in the sidelines to clamour for OROP. Didn't various commissions and committees including Koshiyari Committee of 2011 rule it out because of difference in retirement ages and unique service conditions? Are you yourself being party to this clamour now so as to silence the veterans?
I don't trust you anymore You are now catching at straws to somehow deny me my due. You have almost lost me now; you are not big enough and rich enough to buy me back. You would rue the following moment for as long as you live:
I don't trust you anymore; I never will. And you yourself are responsible for that.
Yours (you would hope)
faithfully
(I am not too sure)
Fauji
---
(Source - Posted by: Col Latif Vadakkayil Vet via e-mail)