I wanted to share an
IMPORTANT DEVELOPMENT
with you.
The Prime Minister and the Raksha Mantri have been concerned about massive litigation and grievances in service and pensionary matters involving the Ministry of Defence. It was also felt that Ministries and Departments should be concentrating on core issues of governance rather than being overwhelmed by such litigation. Excessive court cases and grievances on various policies vitiate the environment, something which is highly avoidable and not in national interest. The discontentment in the last few years on this subject is well known.
In order to ensure holistic resolution and a permanent solution of the issue and to recommend practical ways and means of having an effective mechanism in place so that genuine grievances are resolved in an environment of mutual trust and faith at the lowest possible level, and keeping in view the PM's vision and directions, for the first time in history the Raksha Mantri has directed the constitution of a Short-term Commission/Committee of Experts who shall examine all related matters to find workable solution(s) to such issues.
It gives me contentment in also informing you that I and Maj DP Singh (https://www.facebook.com/MajorDPSingh) have been tasked by the Raksha Mantri to be Members of this body consisting of a total of Five persons.
I assure everyone that we shall undertake this task objectively, transparently, without fear or favour, neutrally with all sensitivity, and most importantly, swiftly and in all probability within a period of two months.
We thank the PM and the RM for taking this progressive and landmark step and reassure them that we would not let them down.
Just to clarify, this body has no link whatsoever with OROP.
Navdeep Singh.
(Source- via fb a/c of Cdr sharan ahuja)
========================================
The five member committee would include Punjab and Haryana High Court lawyer Maj Navdeep Singh and Maj DP Singh, a disabled veteran who lost a limb in the Kargil conflict in 1999.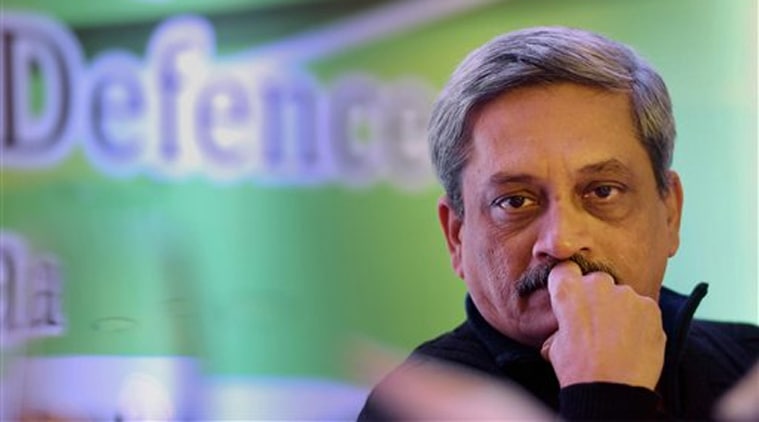 Defence Minister Manohar Parrikar. (Source: PTI)
In a major decision aimed at reducing the litigations and disputes in various courts across the country as well as in the apex court pertaining to defence personnel, the Defence Minister, Manohar Parrikar, has directed that a committee of eminent retired Army officers and legal experts be constituted to suggest remedial measures.
Sources in the Ministry of Defence informed that the committee would also be recommending broad institutional changes relating to to mechanisms for redressal of grievances and would holistically examine resolution of issues which have led to massive litigations pending. A senior officer informed that the committee has been commissioned taking into account the renewed perspective in the government that focus should be on core functioning of ministries and disputes should be resolved at the in-house so that aggrieved employees are not forced to approach courts.
The five member committee would include Punjab and Haryana High Court lawyer Maj Navdeep Singh and Maj DP Singh, a disabled veteran who lost a limb in the Kargil conflict in 1999. Apart from the two, former Adjutant General of the Army, Lt Gen Mukesh Sabharwal (retd) and former Military Secretary Lt Gen Richard Khare (retd) and a former Judge Advocate General (JAG) of the Army are expected to be members of the committee.
When contacted, Maj Navdeep Singh confirmed the development and stated that the committee would live up to the expectations of the Government and the military community and attempt to practically alleviate problems of soldiers and veterans. Maj Navdeep Singh is considered an authority on legal matters related to defence services and has been a highly decorated reservist-volunteer with the Territorial Army. A supporter of soldiers' disability rights, he is associated with many landmark rulings concerning soldiers and veterans. He is a member of the International Society for Military Law at Brussels and has been an invitee of the Yale University for discussions on military law.
Maj DP Singh is a Kargil war survivor who at one point of time in July 1999 had been declared dead by the doctors. He is an inspirational figure and the first Indian amputee marathon runner. He is a Triple Limca Record Holder and runs an NGO called "The Challenging Ones" for shaping the attitude of amputees using sports as a medium.
Military veteran organisations have long called for reduction of litigation, especially appeals initiated by the Ministry of Defence against disabled soldiers in the last few years. A large number of cases in which the defence services go in for appeal against lower court orders relate to minor pensionary benefits and the litigants are mostly soldiers with modest means forced to hire lawyers at great expense.
Zonu
-
Why IAS people like Joint secy etc are not member of this committee? Do they want to play GOD after committee submits recommendations? Or, they blame Army for all wrongs and MOD as well as dept of ESM welfare feign ignorance. Navdeep and others may see this angle also.