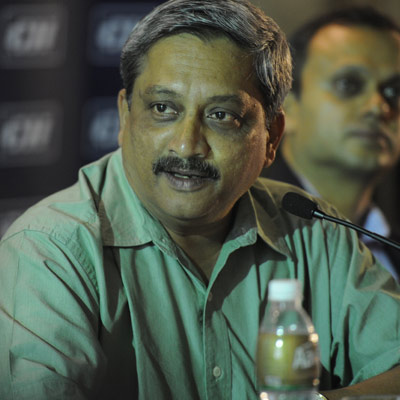 A group of
ex-servicemen
on Monday announced that they will "boycott" Defence Minister Manohar Parrikar's proposed visit in Mohali later this month and show him "black flags" in protest against the delay in implementation of "One Rank One Pension" by the Centre. United Front of Ex-Servicemen (UFESM) held a rally to show solidarity with the fellow ex-servicemen, who have also been holding relay hunger-strike in various cities.
At the end of the rally, the veterans unanimously resolved to boycott the Defence Minister's visit and show him black flags on July 25 when he is scheduled to inaugurate here the 'Mai Bhago Institute' for training of girls to join the Defence Services. They also sought issuance of notification for "One Rank One Pension" (OROP) and demanded time-boud implementation of their long-pending demand.
"We defeated Pakistan, captured 93,000 prisoners and created a separate country (Bangladesh) in 13 days flat, but the Narendra Modi Government could not issue notification for implementation of 'already approved' OROP scheme, despite being in power for over 14 months," said veteran Brigadier Harwant Singh (Retd). It is was highlighted that the draft government letter for implantation of OROP was prepared in April 2014, but was still lying as a 'draft' only, he said.
The Defence Minister, BJP president (Amit Shah) and other party functionaries have just mouthed platitudes of implementing OROP "soon", but no one has given a firm date, he said adding we wonder when that "soon" would arrive.
Meanwhile, Brigadier (Retd) Singh also warned, "lack of response from the Government was testing the patience of the veterans and has led to incidents like the one at Bathinda on July 8, in which main highway was blocked by the veterans". "The government is forcing the most loyal and disciplined community to resort to direct action which may lead to disastrous consequences, considering the fact that many veterans have their sons and other close relation serving in the fores," he said.
The veterant also asked whether the Government wanted military discipline to break down and staged a revolt in the defence forces, asked the veterans. Lack of the government's response, despite the protests being carried out for about month, makes it obvious that it has no intention of fulfilling promises, repeatedly made, by no less than the PM himself with respect to OROP, Lt Colonel (Retd) S S Sohi said.
The Indian Ex Servicemen League (IESL), All India Defence Brotherhood, Ex-Servicemen's Grievances Cell, State Ex- Servicemen Welfare Association (SEWA), Ex-Servicemen's Joint Action Front (Sanjha Morcha) and many other Ex-Servicemen's organizations took part in the rally.
(Source- Jottings blog & DNA)