Over 7,000 veterans attend rally in Jalandhar | Their agitation enters 126th day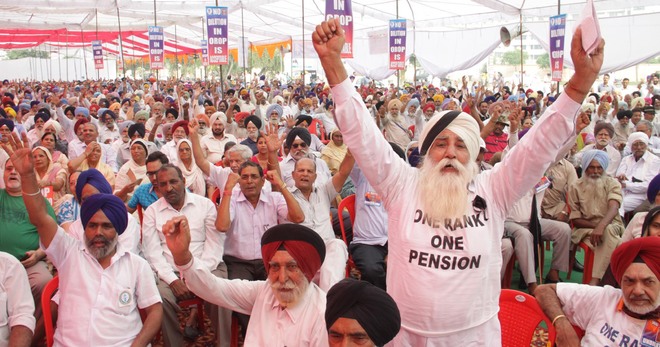 Maj Gen (retd) Satbir Singh, chairman of the United Ex-Servicemen Front of India (UESFI), said they would not hesitate to make the supreme sacrifice to get the One Rank One Pension (OROP) scheme implemented. He said that equal pension for equal service was the right of each retired personnel and that they would not accept any dilution in the scheme. He said it was a 'do or die' moment for the ex-servicemen.
At a rally attended by over 7,000 veterans here, Major General Satbir said the veterans would intensify their agitation if the Centre delayed the matter any more.
"The government thinks us to be old and a worn out army which is not capable of continuing the battle for much longer. They also think we are fighting the battle without any support from our serving fraternity. I want to remind them that around 0.7 lakh personnel retired from the army every year and join our community. They may be silent on the issue, but they are keeping a close watch on the developments," said Major General Satbir.
Mocking Prime Minister Narendra Modi's 'Man Ki Baat' programme, he said Modi should also provide some medium to the ex-servicemen to say their 'Dil Ki Baat'. He refuted reports of infighting among the ex-servicemen over the OROP issue. Major General Satbir said the government tried to act upon the 'divide and rule' policy of the British era, but could not succeed due to the unity among the veterans.
"I would like to inform the war widows, junior commissioned officers and other ranks that no officer will accept OROP till the time they get their rights," he said. He said even though Modi had announced the implementation of the OROP, his government had not issued a notification till date as it wanted to drag it till the Seventh Pay Commission is implemented.
"The government assumes that once the Seventh Pay Commission comes into being, it will not recognise OROP. However, they should know that the Central Pay Commission does not have any right to comment on the matter. It can only integrate OROP. Hence, the delay will not serve much purpose," said the war veteran.
Urging the state government to break its silence over the dilution of OROP, Major General Satbir said many ex-servicemen backed by their NRI counterparts might stand as Independent candidates in the 2017 Assembly elections.
Not only ex-servicemen, but many other social welfare organisations and NRI groups made handsome cash donations to the UESFI. After the alleged freezing of bank account by the government, the body has been collecting donations in cash.
Also supporting their cause, many religious bodies and social organisations organised community kitchens at the venue and offered free meals to the veterans.