November 13, 2016 9:32 am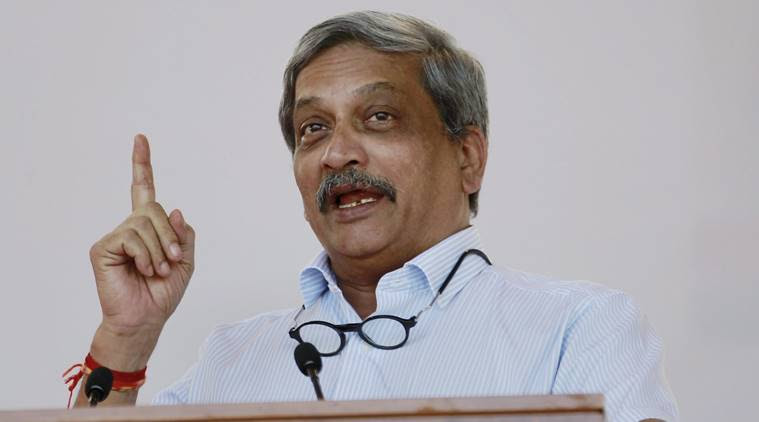 Parrikar has also approved the recommendation that complaints by lower ranks would not be rejected on hyper-technical reasons.
Defence Minister Manohar Parrikar has given an in-principle approval to the recommendation of a Committee of Experts on providing an opportunity of hearing or personal interaction by military authorities before deciding upon complaints of defence personnel under statutory provisions in a time-bound manner.
The committee had recommended that there was a lack of opportunity of personal hearing/interaction while deciding the representations and complaints of defence personnel. The complaints were found to be have been dealt with "by way of one-way file noting system". Documents accessed by The Indian Express show that the Ministry of Defence (MoD) has now noted that this recommendation may be agreed in principal and will be examined in consultation with the service headquarters of Army, Navy and the air force and that appropriate instructions can be issued for this.
Highly placed sources inform that the Defence Minster has also approved the recommendation that complaints by lower ranks would not be rejected on hyper-technical reasons such as non-adherence to formats and should be strictly decided within the time frame of maximum 6 months.
A Committee of Experts constituted by the Defence Minister to review litigation, systems of grievance redressal, service and pension matters comprising former Adjutant General Lt Gen Mukesh Sabharwal, former Military Secretary Lt Gen Richard Khare, Punjab and Haryana High Court lawyer Maj Navdeep Singh, former Judge Advocate General Maj Gen T Parshad and Kargil war disabled Maj DP Singh had observed that 'opportunity of hearing' was the most cardinal principle of natural justice.
Speaking to The Indian Express, Major Navdeep Singh said that it was good that Defence Minister had accepted the recommendation of the committee. "This is one singular overdue step which would go a long way in ensuring harmony and a calming effect on grievances of the rank and file," he said.
The panel had observed that 'opportunity of personal hearing' or personal interaction had many advantages and was akin to what was known as 'sunwai' in vernacular. "Not only does it lead to satisfaction of the complainant that he/she has been heard objectively by the decision making authority, at times it may also lead to the competent authority getting convinced that what the complainant was stating was correct and different than the picture painted by the authorities on noting sheets lower in the chain".
Stating that it would lead to greater satisfaction and harmony, the Committee had added that this system would provide a catharsis and outlet to individuals who may feel stifled at times to at least open up before the authorities, which was otherwise difficult keeping in view the stratified rank structure environment. The panel admitted that there was a perception that decisions were taken based on the comments of those very officers/officials who had been complained against giving rise to a question of bias which needed to be addressed.The panel also recorded that ranks other than commissioned officers were apprehensive in approaching the institutional redressal system for the fear of reprisal from superiors.
Stating that redressal would become more progressive, responsive and participative, the panel underlined that the system would not apply to all representations but only to statutory complaints.The panel had also noted that ministry under no circumstance would seek 'draft decisions' from the defence services headquarters since the ministry was to apply its own mind on statutory complaints independently from the services HQ and could not abdicate its responsibility or outsource it back to the services HQ. The panel provided that 'opportunity of hearing' would not be mandatory but be only provided at the option of the complainant or aggrieved party.