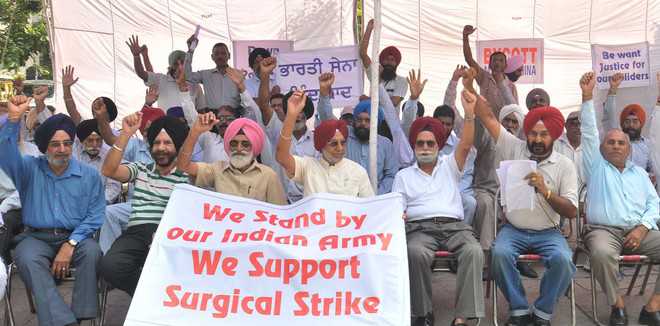 While supporting the response of Indian Army after the Uri incident, the Ex-Servicemen Welfare Association today called upon the people of the country to boycott the Chinese goods as the country has always been unfavourable to India.
The association today held a discussion session to extend an unconditional support to the India Army. They said people should boycott the Chinese goods. Since festival season is just round the corner, the citizens of India must not buy Chinese goods as it boosts their economy.
Speaking to Jalandhar Tribune, Lt Col Balbir Singh, association president, said: "The Indian Army has always shown their valour, when it comes to giving befitting response to the enemy. Therefore, no political party should take credit for the surgical strike that has been undertaken by the Indian Army. The Indian army is fully capable to tackle any situation at the border."
He said, "It is unfortunate that a war like situation has been created in India and some political parties have been taking political benefit."
The association also urged the Govt and political parties not to create war hysteria in the country.
The association also condemned the Govt for not meeting the ex-servicemen's long pending demand of One Rank One Pension (OROP).
(Source- The Tribune)